Okatse Waterfall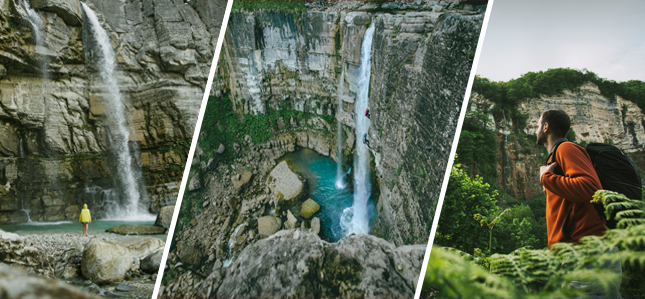 Okatse (Kinchkha) Waterfall is located in Khoni municipality of Imereti region, close to the village Kinchkha. It is a three-step waterfall cascade in the river gorge of Satsikvilo. Flows from the Eastern part of massive chalkstone slopes. The waterfall is distinguished by its geomorphologic construction. From the upper steps, the waterfalls from 25m and from 70m heights into the flatland, where huge siphons are formed. After joining the small rivers, descents a third, 20 meters -high waterfall.
It is possible to visit waterfall by marked trails, besides the fact that on the territory infrastructure was not arranged, it was discovered by many visitors and was in the favourite travel destination list. Make your trip more adventurous and do not postpone visiting this amazing place.
Location: Khoni Municipality, nearby village Kinchkha, 843 meters above sea level.
Coordinates: N42 29.738 E42 33.032
Khoni – Village Kinchkha – 26 km, duration: 40 minutes;
Village Gordi, Okatse Canyon Natural Monument – village Kinchkha 5 km, duration – 15 minutes.
Overnight: Okatse (Kinchkha) Waterfall Natural Monument – 2.1 km, duration: 25 minutes (hanging trail)
Prices:
Ticket till 6 years – for free
Ticket for adults (from 6 to 18 years) – 5.50 GEL
Ticket for citizens and residents of Georgia, expect adults – 10.35 GEL
You should have an ID with you!
Tickets for foreigners, expect adults – 17.25 GEL
In the case of students and pupils visit one teacher or lecturer has free entrance
Working hours: 10:00 - 17:00
Working days: every day
For more details information please contact:
Visitor specialist - Khatuna Gelenidze
Tel:591 54 15 22 | E-mail: samegrelo.okatse@gmail.com